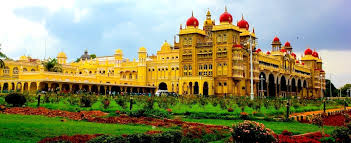 There are various sites to visit around Bangalore that are fortunate with the mix of the Western Ghats and beautiful weather. A single visit to these locations on your South India tour Package from Banglore would undoubtedly rejuvenate your weary spirits from all the frantic work in the buzzing metropolis. Natural treasures include magnificent hill stations, gushing waterfalls, unique rock formations, enormous lakes, and high mountain ranges.
There are sites like Nandi Hills for a gorgeous sunset, Mysore for its epic architectural heritage, Coorg for the coffee plantations, Gokarna for its peaceful hippy vibes, Ramanagara for its brave trekking, and the list is endless on and on.
Must-Visit Places Surrounding Bangalore:
● Nandi Hills -
Nandi Hills, a hill station in Karnataka that is on the list of finest places to visit around Bangalore, provides an ideal atmosphere for city inhabitants to cool off. It stands at a staggering 1,478 metres above sea level.
So, if you want to take a relaxing holiday while learning about Mysore's history, Nandi Hills is the place to go. Furthermore, because of its great elevation, you can expect to see some uncommon vistas, such as a sweeping cover of clouds that hides the hills and valleys underneath it.
Distance: 61 km from Bangalore
● Ramanagara -
Ramanagara is only a short drive from Bangalore if you are considering a brief trip with family members and friends. It is a little town in Karnataka that offers a plethora of fantastic chances for holidaymakers to unwind their bodies and minds. More significantly, this is where the Bollywood classic Sholay was filmed.
Ramanagara is regarded as one of the most gratifying spots around Bangalore for adventure, since you may spend your vacation here experiencing the thrills of trekking and rock climbing. Furthermore, the town is surrounded by seven gorgeous hills brimming with untouched nature, making it a scenic delight.
Distance: 49 km from Bangalore
● Coorg -
Wake up to the aroma of soothing coffee and take in the picturesque grandeur of this misty region of mountains and streams. Coorg, often regarded as the Scotland of India, lives true to its reputation with an enticing blend of history, elegance, adventure, and delectable cuisine. This well-known coffee-producing hill station, located along western ghats, is well-known for its jaw-dropping beautiful scenery and wealth.
This foggy landscape has a unique culture and a different indigenous clan - Kodavas who specialise in martial arts and are well-known for their hospitality. From admiring the grandeur of this magnificent destination to a strenuous walk, Coorg will push you to the limit in every way.
Distance: 276 Km from Bangalore
● Kanakpura -
Kanakpura is a city in Karnataka that is popular for an eventful holiday and is one of the less explored destinations near Bangalore. Try a range of unusual activities at an adventure camp, go on a night hiking excursion, or excite your senses by partaking in some adrenaline water sports — Kanakapura has plenty of entertaining alternatives.
Distance: 69 km from Bangalore
Bangalore has a year-round moderate climate. Summers are not too hot, and winters are not excessively cold. That implies you can come and go as you choose in this lovely city!
However, enjoy your South India tour Package from Banglore between February and November since the weather is ideal for sightseeing, bar-hopping, and a variety of other recreational activities in Bangalore.