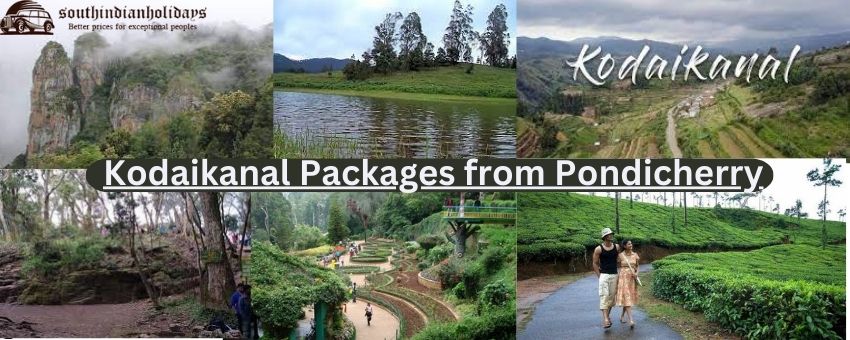 In the southern part of India Kodaikanal, referred to as the "Princess of Hill Stations," is a well-positioned full with nature beauty hill station located in the Western Ghats of Tamil Nadu, India. Well-maintained palace and recognized for its greenery, serene lakes, and pleasing climate, Kodaikanal is an ideal place near Tamil Nadu to get rid of the busyness of city life. If you are living in Pondicherry and looking for a remarkable holiday, consider traveling to Kodaikanal Packages from Pondicherry custom-made to suit your needs and likings.
Things to consider before you start your journey to Kodaikanal
Select the right tour package
Before you start your journey to Kodaikanal, it's important to choose the right tour package. Many agencies in Pondicherry offer a variety of options, starting from budget-friendly packages to luxurious ones. It is very significant to select a tour package that aligns with your budget and benefits.
Decide how you travel from Pondicherry to Kodaikanal
The complete journey from Pondicherry to Kodaikanal is nearly 330 kilometres which takes approx. 7 to 8 hours by road. It is advisable to take a private cab or a bus, you can select traveling mode as per your budget. The beautiful road offers sights of Tamil Nadu's lovely countryside.
Where to visit for exploring Kodaikanal:
After reaching the Kodaikanal, the most obvious reason to visit here for its natural beauty. The town is well-known for its charming attractions, including:
Kodaikanal Lake: This man-made lake ideal place to enjoy boating and spectacular views of the surrounding hills.
Coaker's Walk: A beautiful promenade offering bird's-eye views of the Western Ghats and valleys. An exactly preserved botanical garden containing a diverse collection of plants and flowers.
Pillar Rocks: A set of three soaring rock creations that provide wonderful views of the valleys.
Accommodation:
There are multiple staying options available in Kodaikanal, that includes hotels, resorts, cottages, and guesthouses. Consider your budget first accordingly you can find relaxed and suitable places to stay that cater to your needs.
Safety and protections
It is important that while traveling to Kodaikanal, certify your safety by following local guidelines and taking defenses like carrying essential medicines, staying hydrated, and respecting the environment by following the guidelines.
Climate:
The finest time to visit Kodaikanal is throughout the summer months (April to June) when the weather is most pleasant. It can be very suitable to get rid of the heat of Pondicherry.
Some of the Exclusive Experiences you find in Kodaikanal
Kodaikanal offers a range of exclusive experiences, such as:
Trekking: Travel the lush green hills and forests on directed treks, including the popular trek to Dolphin's Nose.
Shembaganur Museum of Natural History: Discover a charming collection of objects related to the region's flora and fauna.
Shopping: Buy some of the native products like handmade chocolates, herbal oils, and souvenirs from local markets.
Ho to do you book your tour package?
Booking a tour package from Pondicherry to Kodaikanal is very simple. As there are multiple options available you can either contact a travel agency or book online through their websites. Make sure to ask about the route, inclusions, and any customization options accessible.