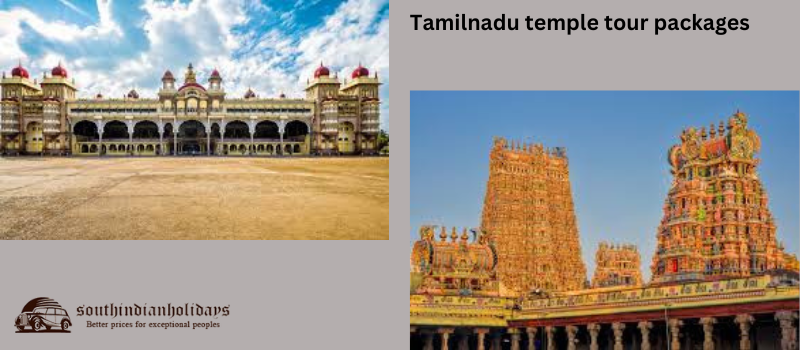 Tamil Nadu is home to some of the supreme well-known and ancient temples in India. These temples are not only of historical and architectural importance, but they are also significant pilgrimage sites for Hindus. To cater to the needs of pilgrims and tourists, several tour operators offer Tamil Nadu temple tour packages that provide a comprehensive and hassle-free experience of visiting these temples.


Tamil Nadu temple tour packages offer a unique opportunity to explore the rich cultural and religious heritage of Tamil Nadu. With a range of temples to choose from and comprehensive tour packages available, it is an excellent way to experience the history, architecture, and spirituality of this fascinating region.


Here are some of the temples that are included in Tamil Nadu temple tour packages:


Meenakshi Amman Temple, Madurai: The Meenakshi Amman Temple is one of the most popular and important temples in Tamil Nadu. The temple is recognized for its complex carvings and sculptures, and it attracts thousands of pilgrims every year.


Brihadeeswarar Temple, Thanjavur: The Brihadeeswarar Temple, also known as the Big Temple, is a UNESCO World Heritage Site and one of the largest temples in India. The temple is known for its massive granite structure, towering gopurams, and intricate sculptures.


Ramanathaswamy Temple, Rameswaram: The Ramanathaswamy Temple is a major pilgrimage site for Hindus and is dedicated to Lord Shiva. It is located on the island of Rameswaram and is believed to be one of the twelve Jyotirlinga temples in India. The temple is known for its long corridors, intricate carvings, and sacred water tank called Agni Theertham.


Kapaleeswarar Temple, Chennai: The Kapaleeswarar Temple is a popular temple located in the heart of Chennai. It is dedicated to Lord Shiva and is known for its Dravidian architecture and intricate sculptures. The temple also has a large tank called the Kapali Tank, which is believed to have healing properties.


Nataraja Temple, Chidambaram: The Nataraja Temple is a unique temple dedicated to Lord Shiva in his form as the cosmic dancer, Nataraja. It is located in the town of Chidambaram and is known for its intricate carvings and sculptures depicting the cosmic dance of Lord Nataraja.


Why it's convenient to book Tamilnadu temple tour packages from Chennai?
Proximity to Major Temples: Chennai is located close to several major temples in Tamil Nadu, such as the Kapaleeswarar Temple, the Parthasarathy Temple, and the Tirumala Tirupati Devasthanam. This makes it an ideal starting point for a temple tour of the state.


Accessible Transportation: Chennai has a well-developed transportation network, including airports, railways, and highways, making it easy to reach different parts of Tamil Nadu. This makes it convenient for tourists to travel to different temples as part of their tour package.


Availability of Tour Operators: Chennai has a large number of tour operators who offer Tamil Nadu temple tour packages. This means that tourists have a wide variety of options to choose from, depending on their preferences and budget.


Accommodation Options: Chennai has a range of accommodation options, including budget hotels, mid-range hotels, and luxury resorts. This makes it convenient for tourists to find accommodation that suits their needs and budget.


Local Cuisine: Chennai is famous for its delicious South Indian cuisine, including dosas, idlis, and sambar. Tourists can experience the local cuisine and explore the city's culinary delights as part of their temple tour package.


Tamil Nadu temple tour packages typically include transportation, accommodation, and guided tours of these temples. Some packages may also include visits to other nearby temples and attractions. These packages are designed to provide a comfortable and convenient way for pilgrims and tourists to experience the rich cultural heritage of Tamil Nadu.