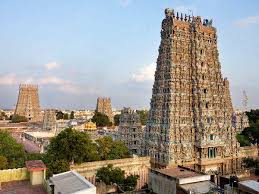 The enthralling experience of the attractive beaches, wonderful temples, picturesque wildlife parks make Tamilnadu a land of tourist pleasure. It is rich in natural and cultural heritage which can be appreciated through a plethora of panoramic and historical sites through the state. It is well known for its glorious temples, which are the key attractions of tourist across the globe.
These temples, monuments, forts and palaces are equivalent to heaven for all arts lovers and are best examples of man-made wonders uttering the historical saga of the bygone era. It is the southernmost state of India often referred as the entry to South India. It is the land of Tamil Civilization famous for its Dravidian style of temples, archaeological sites, natural resources and the UNESCO World Heritage Sites.
Some of the exclusive temples must be included in Tamilnadu temple tour packages
Meenakshi Temple:
Meenakshi Temple is recognized for its sophisticated rock carvings across the globe and unfurls the saga of historical legacy of Tamilnadu's arts and culture. It is situated on the bank of River Vaigai in the Madhurai district. This temple is devoted to Lord Shiva in the 'form of Sundareswarar or lovely Lord' and his consort, Goddess Parvati in the 'form of Meenakshi' and that's why it is also recognized as Meenakshi Sundareswarar Temple or Meenakshi Amman Temple.
Ramanathaswamy Temple:
Rameshwaram is one of the utmost sacred pilgrimage destinations in India, eminent for the stunning Ramanathaswamy Temple. According to Indian mythology, Rameshwaram is the residence where Lord Rama presents thanks to Lord Shiva in return for his support in defeating King Ravana. This wonderful temple is one of the 12 Jyotirlingas located in different parts of India and is noted for its huge hallway of 1220 meters in length.
Kapileshwar Temple:
It is one of the oldest temples of Chennai, located in Mylapore. Dedicated to Lord Shiva, it is famed for its architectural beauty reflecting the Dravidian style. The sixty-three idols of Saivite saints are the centre of the charms of this temple.
The other lovely temples of incredible South India comprise Shore Temple, Sarangapani Temple, Sri Adhikesava Perumal Temple, Brihadeshwara temple and Kanyakumari Amman Temple.
Most Popular Tour Packages in Tamilnadu Temples
• Six Vinayagar Koil Tour Package
• Arupadai Veedu Murugan Temple Tour Package
• Navagraha Temple Tour Package
• Pancha Bootha Sthalam (Lingam) Tour Package
• 108 Divya Desam Temple Tour Package
• Kumbakonam Temple Tour Package
• Narasimhar Koil Tour Package
• Chidambaram Kumbakonam Thanjavur Tour Package
• Trichy Thanjavur Madurai Rameshwaram Tour Package
• Tiruvannamalai Tour Package
• Chennai Temple Tour Packages
• Trichy Temple Tour Package
• Madurai Temples Tour Package
• Palani Temple Tour Packages
• Rameshwaram Temple Tour Packages
• Thiruchendur Murugan Temple Tour Packages
• Kanchipuram Temple Tour Packages
Qualities to look for in the tour operator before you book Tamilnadu temple tour packages from chennai
• Well-maintained vehicle with a well-behaved driver.
• Safe and secure travel throughout the tour package.
• Dedicated Customer Service.
• Instant Booking confirmation Via E-Mail/SMS/ WhatsApp/ Skype
• Proper tour guidance/assistance is provided for customers.
• Assign a driver with proper knowledge of the routes.
• Customized tour itinerary.