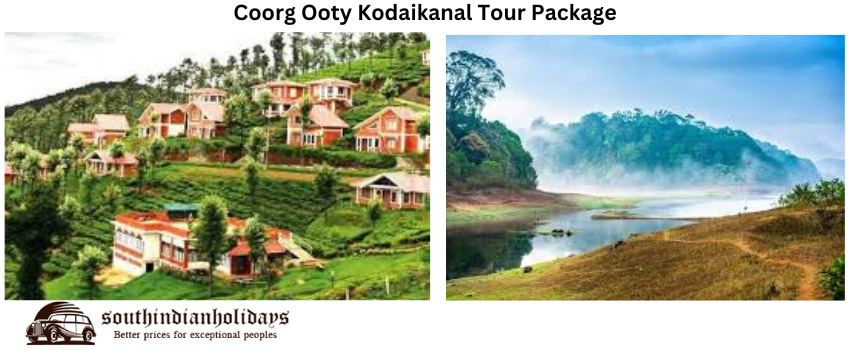 Coorg, Ooty and Kodaikanal are three apparent tourist destinations of South India. It draws in voyagers from everywhere across the world. This beautiful blend of scenery set amid popular South Indian hill stations gives you some of the sweetest moments in your life. The best time to book this Coorg Ooty Kodaikanal tour package is from October to March. The weather around this time is ultimate for everyone to go out sightseeing as there is no rainfall.


Starting your Coorg Ooty Kodaikanal Tour journey with the cool breeze of Coorg. This tour package will pass through the stunning landscapes unfolding at the Nilgiris. It allows you to experience grandeur & opulence at the prominent hill stations at Tamilnadu.


Coorg is a beautiful large town that lies in the southwest Indian state of Karnataka. It holds many churches, museums, misty hills, lush greenery, and coffee plantations. It is also called the Scotland of India which is very well known for its exotic and mesmerizing views.


Ooty is one of the most loved hill stations of Tamil Nadu situated in the Nilgiri Hills of southern India. This queen of hill stations is frequently visited by many tourists to enjoy the peace and calm this place has to offer. It is bordered by lush green trees home to ferns, orchids and a never witnessed flora. It also has Ooty Lake to offer boating and other activities while featuring many flourishing gardens.


Another popular hill station situated in Tamil Nadu is Kodaikanal which is belted by evergreen forests. It is situated at 2000 meters above sea level and is called the princess of hill Station. This place is beautifully located near Palani in the hills of the Dindigul district.


Tour Travel Companies made it possible for explorers by choosing the best Coorg Ooty Kodaikanal Tour Package. Go through the website to find out the attractions and related facilities included in the Coorg Ooty Kodaikanal tour package. Also, check and compare the prices of the different packages mentioned and choose the one that suits your preferences and budget.


Top Attractions of Coorg Ooty Kodaikanal Tour-


Abbey Falls: This is one of the most scenic places to visit in Coorg that features cascading waterfalls. Abbey falls is surrounded by the lush greenery of coffee plantations. This tourist attraction is a perfect picnic spot for family and friends. The natural beauty around the region and refreshing water adds to the charm of the place and a surreal experience.


Dubare Elephant camps: It is situated alongside River Kaveri which is one of the most joyous places to visit in Coorg. Tourists get to engage in several fun activities with elephants at this camp. One can enjoy bathing and feeding elephants while also relishing the enthralling natural surroundings. The camp is quite famous among wildlife lovers and nature enthusiasts. These elephants are trained for the festival of Dussehra and you can enjoy the elephant rides.


Doddabetta: Your tour is incomplete without visiting Doddabetta peak in Ooty which is the highest peak of the Nilgiri range. You can choose to trek to reach the height of 8000 feet while enjoying the scenic views on the way. Don't forget to bring your camera to capture the beauty and your selfies. If you are an adventure lover then getting to the highest peak of Tamil Nadu would be a great experience.


Ooty lake: This man-made lake was built in the year 1824 and is spread over 65 acres. Ooty lake is the best place for boating and spending time with your loved ones. This artificial lake is surrounded by picturesque natural views.


Botanical gardens: This is one of the most popular tourist attractions in Ooty which is famous for its alluring Flower Show. The garden also has a Fern House, Nurseries, and Conservatory which is maintained by the Tamil Nadu Horticultural Society. This garden is located at the bottom of Doddabetta peak and spreads across 55 acres of lush green land. Indeed, the botanical garden in Ooty is an ideal destination for nature lovers.


Kodai Lake: This artificial lake, which was built in 1863 has now become the most popular tourist spot in Kodaikanal. The best way to enjoy the beauty of the lake is to go boating. You can also choose to walk or cycle around the lake to have a memorable experience on the tour. This man-made marvel can take your breath away with mind-blowing views during sunsets.


Bear Shola Waterfalls: Kodaikanal is famous for many waterfalls, one of which is Bear Shola Falls. This waterfall was named Bear Shola because it was believed that some bears used to come here for drinking water. This amazing place boasts cascading waterfalls, lush green landscapes, and densely forested hills. This waterfall is adorned with peace and shows the untouched timeless beauty of Kodaikanal.


You can visit all these places through this tour package and enjoy a stress-free journey. The connectivity to these cities and within these places is so good with the availability of airports, railway stations, and bus services. You can customize your Coorg Ooty Kodaikanal tour package according to the mode of transport you choose to travel. Each traveller has different travel needs, based on which each package is created. All these places are flocked by tourists around the world, so make sure to book your package in advance.